Join me and learn the basics about using WordPress.
If you have any questions, please contact me. My goal is to make this simple, and easy to understand. I teach in plain language, no geek speak.
I have tried to make this as easy as possible by pre-setting up all the training items we need to learn together. 
Each class attendee will be given a CD or a USB drive that is set up for this class.
You will be able to follow along and learn using the files I already have set up for you on the CD/usb drive I will assign to you before class.
This includes a practice WordPress site for each attendee that has been set up for you to use during the class and for 30 days after class to practice on.
Image folder with re-sized images so we can work efficiently with the image portion of the training.
You will be able to download the training folders to your desktop for future use to keep, and to use for more practice on your own. 
You will turn the CD or USB disk back in at the end of class. 
This class includes an online follow up set of 10 video lessons covering what you learned.
You will have access to those for 1 year. 

Class starts promptly at 9:00 and we will take one 15 minute break and then end at 12:00




With a Q and A from 12:00-12:30, and I will be available to answer more questions from 12:30-1:00 outside the classroom so the Self Publishing session can move in and get starte

d. 
In our half day bootcamp you will learn the topics below. 
1.  Logging In
Several ways to login, and how to get to the dashboard.

2. The Dashboard Part One
 Media, Links, Pages, Posts, Comments.

3. Themes and Menus 
Custom Themes, Upgrade, Use free themes, search themes by color or layout.

4. Custom Menu Section, Parent and Child Pages Explained
How to set up a custom menu, and what are parent and child pages?

 5. General Settings Dashboard | User Section

6. General Settings Dashboard | Writing | Reading | Discussion

7. How to create and publish a Post or a Page

8. Adding tags or keywords and categories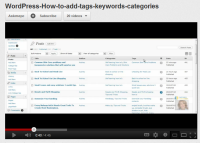 9. Working with Images Part One

10. Working with Images Part Two |Slideshows and Gallery

To access my bonus section, click here.