Hello All  CWC Members!
Thank you for having Laurie McLean and I speak at your recent meeting for the South Bay Chapter.
Here is the download links for the handouts I had with me.
Linda Lee Handout CWC-Content-Ideas Website Promoting
8 Elements Every Author Website Should Have
Also here is the sign up for the discounted price for the next WordPress Bootcamp at Mills College, Nov 10, 2012
9-12:30
Learn WordPress Live. Do you need to learn WordPress or enhance and refresh your current skills?
  Many people start to use their WordPress website, and then forget some of what they may have already learned or never figured out things like uploading images correctly, how to name your images for search engine optimization, or things like the best plugins and tools to optimize and get the most out of your WordPress website. With our WordPress bootcamps, we offer you live  and hands on help with WordPress. During WordPress bootcamp you will be working on live test sites with hands on help in a small classroom environment. Classes are limited to 8. Class sizes range from 4-10. We still have room for Mills College, Nov 10th, 2012 WordPress Bootcamp training class. In our half day bootcamp you will learn the topics below.
  1.  Logging In Several ways to login, and how to get to the dashboard.

2. The Dashboard Part One Media, Links, Pages, Posts, Comments.

3. Themes and Menus  Custom Themes, Upgrade, Use free themes, search themes by color or layout.

4. Custom Menu Section, Parent and Child Pages Explained How to set up a custom menu, and what are parent and child pages. 

5. General Settings Dashboard | User Section

6. General Settings Dashboard | Writing | Reading | Discussion

7. How to create and publish a Post or a Page

8. Adding tags or keywords and categories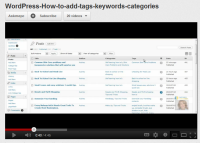 9. Working with Images Part One

10. Working with Images Part Two |Slideshows and Gallery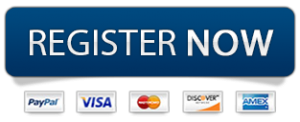 Linda Lee
askmepc-webdesign.com
wordpressbootcamp.net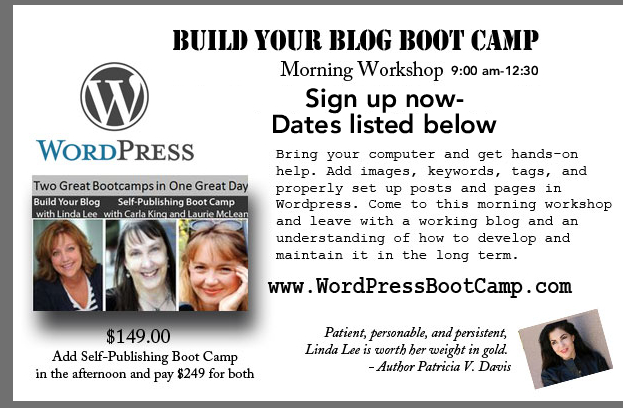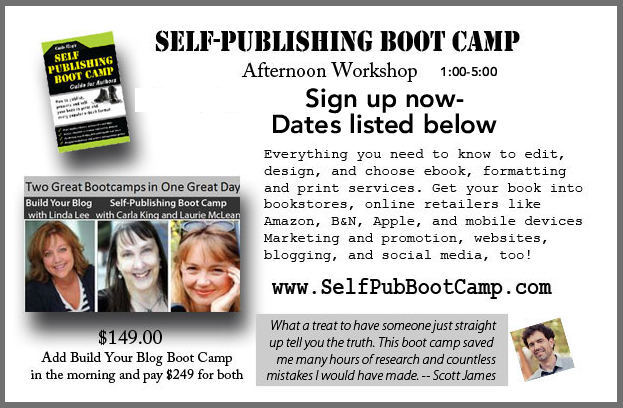 Discount Link for CWC Self Publishing Bootcamp Sign Up
Sign up for a Free WordPress Site
Helpful Articles and Resources

What is the difference between WordPress.com and a self hosted WordPress website?
Bonus Download Handout, click below for the PDF download. How to make your website sticky- 10 ways to keep your readers coming back
Free 30 minute consultation with me about your website or online presence.
Please go here and fill out my pre-planning sheet. I will contact you and set up a time to chat.
Products that I use and recommend.
I use AWeber for my email program. I find AWeber easy to use, they have templates if you want to use those for your newsletter. They are very helpful and you can call them or use their help section. This is important to me because when I need help I want to be able to call a company and also not be charged extra for help. Here is a free trial sign up, so you can actually try it first before you commit.
Can You Have More Sales, Too? Helping over 102,000+ businesses like yours raise profits and build customer relationships using AWeber's opt-in
email marketing software
for over 10 years.
Another Product I mentioned is Snagit by Techsmith. They also make Camtasia, which you may of heard of. Snagit is a fast and easy way to work with images, "snag" things off the internet, re-size and work with images you already have, and now they have built in a recorder that allows you to use your web cam or record your desktop and upload it to YouTube or they will give you a free Screencast account to keep videos on. Here is their website, and a video on the features.
Domain Names– Click here to sign up for a domain name account with godaddy. This is the ONLY thing I recommend godaddy for. I do not recommend them for hosting or any other products. They charge extra for everything and their website is always changing. They try to up-sell you all the time, and I find their set up confusing.
It is however a good place to buy and keep track of your domain names.
They are all in once place and easy to set up for whatever hosting you select.
Don't forget when you renew your domains, looks for coupons. Also do not buy your names for years in advance, you save more using coupons each year!

WebHosting– I run my own web hosting company for clients and it is only 95 a year. This includes unlimited bandwidth, emails and two stat programs in your hosting control panel, unlimited sub-domains and add on domains and is very easy to use and understand. I am a reseller for HostGator, who are the 2nd largest hosting company in the U.S. I manage and oversee all my clients accounts and I am on call 24/7 if any issues come up. Which I can happily say rarely occurs. The reason people choose to go with me is personal service and I am always there to help. If you are interested in using me for hosting, please contact me at 510-582-2837.
If you select my hosting, I will install and get you started with WordPress , using the default theme that comes with WordPress.
If you would like to just sign up with Hostgator on your own, I have a 25% of coupon you can use. Go here-select your plan and when checking out, use "askmpc25off" , and you will save 25% of on any plan you select, and the more you pay in advance the more you will save. If you need an SSL cert to run your shopping cart or payment system, I highly recommend you select their business plan. It includes a FREE SSL cert, which godaddy and other hosts charge 200-300 a year for. This is a huge savings if you are someone who needs that.
GravityForms-
Click here to visit rocketgenius. Gravity Forms is simply the best form program I have ever used. All my clients are using it now. It works with PayPal, authorize.net and slide. It is like having on online file system. You can make extensive multiple forms and every submission has a copy of it saved on your site under entries. You can then export whatever fields you want, such as email, names, event special orders, and it will export to an excel file or format and basically you have a lifetime of records always on your site. Also with companies work with, it allows for you have you VA or assistants login and handle thing and see who has paid or signed up. The San Francisco Writers Conference is now using this system to register attendees, Women's National Book Association for membership and many many organizations I work with. To see how it works, you can watch my YouTube video I made for  my clients already using the system.


A great FREE and fast tool if you need to check
your HTML or codes you are bringing over from other places. Ever had HTML codes that just would not work? Drop them in here and see if they work. If they do , then you know it is something else, not the code. I can't live without this little tool. Practice Board. Click here. Super easy and so helpful, I use it all the time for over a decade now.
FREE -Struggling with Colors for your website? This is a fun place to look at color schemes. http://www.colorcombos.com/
If you would like more tips and recommendations and ongoing education, please sign up for my newsletter. It is 6 issues a year.